Top 4151-4200 Software Development Programs (from 6501 category titles)
Order programs after downloads or name (currently are listed after downloads)


4151) Samsung GT-S5603 Wallpaper Creator 1
This small tool creates wallpaper of Samsung Star 3G (GT-S5603) mobile phone.

---

4152) RustemSoft.Controls .NET assembly 1.04.84
RustemSoft

---
4153) Professional Scroll Menu Applet 3.2
Configurable scroll menu style.

---
4154) CDBFAPI.DLL 1.20
Powerful library for working with DBF files. It does not require any drivers.

---

4155) Chart ModelKit 3.5
Chart ModelKit: a 100% .NET component for interactive graph and chart building.

---
4156) SDE for IntelliJ IDEA (ME) for Java Platform 1.1 M
SDE for IntelliJ IDEA is a full-featured UML plug-in module for IntelliJ IDEA.

---
4157) Source Code Scanners for C++ Builder 5 4.0 Std
High performance VCL intended for creating analyzers and parsers of source codes

---
4158) VoIP H.323 SDK for .NET and ActiveX 1.0
VoIP H.323 SDK - A powerful and highly versatile VoIP SDK for H.323 applications

---
4159) MSD Employees 3.10
MSD Employees, complete and easy to use employees information manager

---
4160) SDE for JDeveloper (PE) for Mac OS X 1.1 Professio
SDE for JDeveloper is an easy-to-use UML tool seamlessly integrated with JDeveloper.

---
4161) Image Viewer CP ActiveX Control 2.9
Image viewer CP by Viscomsoft is a simple and easy Active X/ OCX control to creates, displays, edits, flips, resizes and rotates image, photo and graphic

---

4162) ESBPCS-Stats for VCL 5.4.0
Delphi Components and Routines for Statistics and Matrix/Vector.

---
4163) AS PROCESS WIN32 DLL 2.0
Process control from your application. Forget task managers, you can do better.

---
4164) SDE for Eclipse (PE) for Java Platform 1.1 Profess
SDE for Eclipse is a full-featured UML CASE tool seamlessly integrated with Eclipse.

---
4165) MS SQL Server to XML Convert Software 7.0
Convert MS SQL Server 2000 or 2005 tables to XML through a step by step wizard.

---
4166) Aspose.Total for Java 1.1.0.0
Aspose.Total for Java is a suite of 6 ultra powerful, file management components

---
4167) SQL Script Recovery 1.21
Dencrypt stored procedures, triggers,views or user-define function

---
4168) CDBrowser 3.2
Stand-alone HTML CD-ROM front-end application

---
4169) Data Export - Oracle2Excel 1.1.018
Oracle2Excel is a program to publish Oracle data as MS Excel spreadsheet

---

4170) FlexCompress 2.70
Files compression library, strong encryption, SFX, support files > 4Gb

---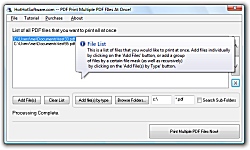 4171) PDF Print Multiple PDF Files at once Software 2.0
Print multiple PDF files simply selecting them at once! This requires a version

---
4172) NewsWidget 1.0
NewsWidget control for Visual Studio 2005 provides news and updates via RSS.

---
4173) VoltoGSC Google Search Component 1.0
ActiveX DLL provides an interface to the Google Web APIs service.

---
4174) MySQL2PostgreSQL PRO 1.3.0
Bi-directional database conversion tool for MySQL and PostgreSQL databases

---
4175) paxCompiler 1.3
paxCompiler is an embeddable compiler of Pascal programming language

---
4176) WinFormResizer for .NET 1.1 2.0
Quickly and easily add resolution independence to your WinForm 1.1 Applications.

---
4177) DreamCoder for MySQL Free Edition 4.7
DreamCoder for MySQL is a free powerful database development and administration

---
4178) MP3 Player ActiveX (OCX) 1.0
ActiveX (OCX) control for to play MP3, WMA, WAV and many other audio types.

---
4179) GOGO Exif Image Viewer Pro ActiveX OCX 2.12
EXIF,TIFF,GPS embedded tags viewer for JPEG,PNG,TIFF image activex ocx

---
4180) GdPicture Pro Image ActiveX Component 2.5.0.0
GdPicture is an image ActiveX component to view create edit and compose bitmap

---
4181) Barcode.dll 1.0
Barcode.dll is a powerful .NET component for creating barcode images.

---
4182) HS POP3 Lite 1.0
HS POP3 Lite 1.0 C Source Library (Post Office Protocol Vestion 3 - RFC1939)

---
4183) GdPicture Pro Image Processing ActiveX 2.5.0.0
GdPicture is an image ActiveX component to view create edit and compose bitmap

---

4184) Packet Sniffer SDK for Windows 4.1
Multi-Gigabit packet capture library for Windows

---
4185) NET Reports Server PRO 2.0
NET Reports 2.0 Server - a Internet ready application

---
4186) Geodaten German Houses (English) 1.00
More than 19 million house coordinates of the Federal Republic of Germany

---
4187) Paraben's Chat Examiner 1.0
Perform forensic analysis of Internet chat clients.

---
4188) csXMultiUpload 1.1
ActiveX control to select and upload multiple files to a server using HTTP.

---

4189) Firebird Maestro 6.12
A Windows GUI tool for Firebird administration and database development.

---

4190) Deluxe Tree 3.15.3
Create fast and effective web site navigation with JavaScript Tree Menu!

---
4191) GeoDataSource World Water Features Database (Premium Edition) May.2010
GeoDataSource World Water Features Database with Latitude Longitude Information

---
4192) EMS Data Export 2005 for PostgreSQL 2.2
Program to export data from PostgreSQL databases into the most popular formats.

---
4193) DreamCoder for PostgreSQL Professional 1.4.2.5
Powerful tool for PostgreSQL PL/pgSQL development.

---
4194) MoneyToys Very Simple Loan Calculator 2.1.1
A Simple, Easily-Installed Loan Calculator for Your Website

---
4195) Karvonite 1.0
Karvonite is a FREE persistence framework

---
4196) QuickCRC MacOSX 2.0.3
QuickCRC is a tool for responsibility driven design with CRC cards.

---
4197) Active Image Processing Component 2.0.2010.218
Image resizing, conversion and processing component

---
4198) X360 PowerPoint Converter ActiveX OCX 2.01
Powepoint convert to image activex ocx, bmp,gif,jpg,png,pdf,tif

---
4199) MS Access Split Fields Software 7.0
Divide one field into 2 or more in Microsoft Access.

---
4200) The Scripter's Scrapbook 5.2
Mac/Win: A personal reference library and source code repository for programmers

---


Browse Pages: [1] [2] [3] [4] [5] [6] [7] [8] [9] [10] [11] [12] [13] [14] [15] [16] [17] [18] [19] [20] [21] [22] [23] [24] [25] [26] [27] [28] [29] [30] [31] [32] [33] [34] [35] [36] [37] [38] [39] [40] [41] [42] [43] [44] [45] [46] [47] [48] [49] [50] [51] [52] [53] [54] [55] [56] [57] [58] [59] [60] [61] [62] [63] [64] [65] [66] [67] [68] [69] [70] [71] [72] [73] [74] [75] [76] [77] [78] [79] [80] [81] [82] [83] 84 [85] [86] [87] [88] [89] [90] [91] [92] [93] [94] [95] [96] [97] [98] [99] [100] [101] [102] [103] [104] [105] [106] [107] [108] [109] [110] [111] [112] [113] [114] [115] [116] [117] [118] [119] [120] [121] [122] [123] [124] [125] [126] [127] [128] [129] [130] [131]