Top 5151-5200 Software Development Programs (from 6501 category titles)
Order programs after downloads or name (currently are listed after downloads)


5151) EMS SQL Manager for SQL Server Freeware 3.4
Easy-to-use freeware graphical tool for MS SQL/MSDE administration.

---
5152) EMS SQL Manager for PostgreSQL Freeware 4.5
Light and easy-to-use freeware graphical tool for PostgreSQL administration.

---
5153) Virtual Print Engine v4.00
PDF Library / Report Generator / Print Engine. Free Community Edition.

---
5154) EDraw Office Viewer Component 5.3.407
EDraw Office Viewer Component for Viewing Office Documents

---
5155) C 2 Delphi Converter 1.0
Convert C source code into Delphi/Pascal source code.

---
5156) dbQwikSite Developer Edition 6.0
Create advanced database web sites fast. Powerful code generator with events.

---

5157) Graybox OPC DA Auto Wrapper 1.2
OPC Automation Wrapper

---
5158) UNA for OS X 1.0
UNA is a real-time collaborative development environment for software engineers.

---
5159) Google Calendar Delphi Component 1.0
Powerful component that allows you to work with Google Calendar using Delphi

---
5160) Multi-Edit 2008 11.01.00
IDE, supporting 50+ languages, with file compare and code beautifying support.

---
5161) Mobile Phone Inspection Tool 2.0.1.5
Cell phone inspector software can provide every detail of mobile and SIM card

---
5162) Voolyk Sip Server 1.0
Voolyk Sip Server is a mature and flexible SIP server (RFC3261).

---
5163) Teroid WPF Seven Segment Display 2.0
.NET wpf seven segment display control

---

5164) MSI to EXE Builder Software 2.0.1.5
Create EXE setup file using Microsoft installer files (.msi) into .exe converter

---
5165) CrashFinder 2.0.3
CrashFinder is a scriptless software testing application.

---
5166) PureComponents Ultimate Suite for .NET 2008.1
79 .NET WinForms controls for $79

---
5167) ZeBAze Database Search Engine 1.0
New search engine that uses artificial intelligence to flexibly query databases.

---

5168) MSI Setup to EXE Creator 2.0.1.5
Setup creator software converts windows MSI installer package to EXE file format

---
5169) VisioForge Video Capture SDK (Delphi Version) 4.22
Delphi control for video capturing.

---
5170) GdImageBox OCX 2.8.1
GdImageBox OCX - Image Viewer OCX Control for PNG, BMP, JPEG, TIFF, EMF, WMF

---
5171) GdViewer OCX 4.11.1
GdViewer OCX - Image & PDF Viewer OCX Control for application development

---
5172) lyteRAD CE 3.01
A Rapid Application Development framework for light weight database applications

---
5173) GdImageBox Pro ActiveX 2.2.0
GdImageBox Pro - Image Viewer ActiveX to display PNG, J2K, JPEG, TIFF, PSD, WMF.

---
5174) PDF Info COM Component 1.01
exporting and importing pdf description information and XMP metadata

---

5175) SMTP/POP3/IMAP Email Engine for FoxPro 5.2
SMTP/POP3/IMAP Visual FoxPro email component library to send and receive mail.

---
5176) DB Elephant SQLite Converter 1.4
Converts SQLite to dbf, xml, csv, txt, sql. Creates reports in xls, doc, html

---
5177) Traumdeutung 1.0
Beautiful Template in the Traumdeutung style.

---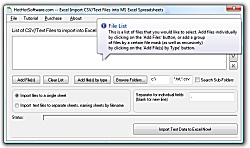 5178) Excel Import CSV Files into MS Excel 9.0
Excel Import CSV Files into MS Excel Software

---
5179) EaseSoft-Barcode Barcode DLL 3.5
EaseSoft-Barcode DLL are easy to work in any Windows application

---
5180) VISCOM Image OCR OCX SDK ActiveX 7.02
multi-page tiff activex picture VB, VC++, Delphi, PowerBuilder, VFP, .Net

---

5181) PvLog DeObfuscator Win32 1.0
PvLog Deobfuscator makes more readable obfuscated code.

---
5182) mPlayer 1.0.0
Windows Media Player Wrapper for developers

---
5183) Mangle-It C++ Source Code Obfuscator 2.2.9
Makes C/C++ code unreadable. Guard your intellectual property. Defeat hackers!

---
5184) Flexible TreeView 2.5
Most flexible TreeView-ListView-Grid .NET control with many unique features.

---
5185) software submission Tiger 2.0
submission software for your health.Step into the light with submission software

---
5186) NextwaveSoft WPF Suite Chart and Gauge 2.0
Nextwave Software WPF Suite with WPF Chart and Gauge

---
5187) DB Elephant MSSQL to Postgre Converter(1) 1.1
Most accurate MSSQL to Postgre Converter to convert whole database or its part.

---
5188) FTP, FTP over TLS/SSL Component for .NET C#, VB.NET, and ASP.NET 2.0
Transfers files directly from your .NET application using FTP/SSL easily.

---

5189) Quick PDF Library (prev. iSEDQuickPDF) 5.11
Quick PDF Library(c) (formerly known as iSEDQuickPDF) is a royalty-free PDF SDK

---
5190) dbExpress driver for PostgreSQL 1.00
A driver that provides fast access to PostgreSQL databases.

---

5191) TBarCode Barcode OCX 9.0.1
Barcode ActiveX: 1D/2D Bar Code Generator Software for Office and Developers

---
5192) POP3 Component for .NET 2.0
Securely retrieving messages from a mailbox on a remote server in your .NET apps

---
5193) Mail Merge Suite for .NET 2009Vol2
Gets all powerful components for generating dynamic content,validating,sending

---
5194) Zeta Resource Editor 2.1.0.6
Anwendung um mehrsprachige Zeichenfolgen nebeneinander zu bearbeiten.

---
5195) PDFOne .NET 2.0
PDF Viewing, Printing, Creation and Management tool for .NET

---
5196) NELiX TransaX FleXPort Code Library 4.1
Integreate payment processing within any application using FleXport!

---

5197) Dreamweaver Menu Extension 5.0
Create a web menu navigation in Dreamweaver using Vista Buttons extension!

---
5198) .NET My Frame Panel 2.13
This .net component let you add visual panel like Vista, Aqua, XP, Office, ...

---

5199) SMTP/POP3/IMAP Email Engine for C/C++ 5.2
SMTP/POP3/IMAP C++ email component library to send, receive and parse mail.

---

5200) BasicVideo VCL 4.5
Delphi/C++ Builder VCL components for fast video capture and playback.

---


Browse Pages: [1] [2] [3] [4] [5] [6] [7] [8] [9] [10] [11] [12] [13] [14] [15] [16] [17] [18] [19] [20] [21] [22] [23] [24] [25] [26] [27] [28] [29] [30] [31] [32] [33] [34] [35] [36] [37] [38] [39] [40] [41] [42] [43] [44] [45] [46] [47] [48] [49] [50] [51] [52] [53] [54] [55] [56] [57] [58] [59] [60] [61] [62] [63] [64] [65] [66] [67] [68] [69] [70] [71] [72] [73] [74] [75] [76] [77] [78] [79] [80] [81] [82] [83] [84] [85] [86] [87] [88] [89] [90] [91] [92] [93] [94] [95] [96] [97] [98] [99] [100] [101] [102] [103] 104 [105] [106] [107] [108] [109] [110] [111] [112] [113] [114] [115] [116] [117] [118] [119] [120] [121] [122] [123] [124] [125] [126] [127] [128] [129] [130] [131]